Always Good Trouble
Hello Friend,
July slipped away from me so quickly, preventing me from being able to spend time collecting and sharing resources that resonated with me before the month was over. The things that kept me occupied and inspired this past month include basking in all of the love I received during my birthday weekend (s/o to Selmaan <3), becoming an Afrotechtopia fellow (more on this next month), and spending time with friends in-person (socially-distanced) for the first time in what feels like forever! 
As I felt my life moving forward for the first time in a while, I tended to gravitate towards reflecting on the past. More specifically, John Lewis' passing and learning about/honoring the ADA's 30th anniversary (+ Marsha P's upcoming birthday —August 24th!) has made me reflect more on the significance of today through the lens of the past. Although the fight for civil rights throughout the 60s and 70s were a different time, today's tools and events are only a continuation of the legacies of our past courageous icons.
I'm feeling really grateful for how John Lewis, Marsha P Johnson, and Judy Heumann are all heroes of a past time, while also being incredibly relevant in so many facets of the way the world works today. Their timelessness has made me reflect on how essential, necessary good trouble is in the fight for liberation and justice. To keep up the good trouble, we must commit ourselves fully to emancipation- to actually address injustice and shift ourselves and our world in transformative ways beyond the bounds of what we think are possible. Our fight today can plant the seeds for tomorrow's revolution, next year's world. How have you transgressed lately?
---
"Learning from other movements for social change, from civil rights and feminist liberation efforts, we must accept the protracted nature of our struggle and be willing to remain both patient and vigilant…Our solidarity must be affirmed by shared belief in a spirit of intellectual openness that celebrates diversity, welcomes dissent, and rejoices in collective dedication to truth". 
- bell hooks, Teaching to Transgress
---
In addition to reflecting on how the legacy of civil rights movements continues to shape our current and future worlds, I've also been educating myself and supporting other important fights that are critical to our future. Most recently, I've been trying my best to support the recovery efforts and protests against injustice in Lebanon. For more information on ways to stay informed and support the people of Beirut, here are some links I've found to be very helpful:
Beirut Resources/Donations: 
In the meantime, I hope this month's collage helps you to reflect more on how your personal transformation is an extension of the interconnected legacies of the past, present, and future. 
Much love,
Nneka

/////////////////////////////////////////////
July/August 2020 collage| Good Trouble
/////////////////////////////////////////////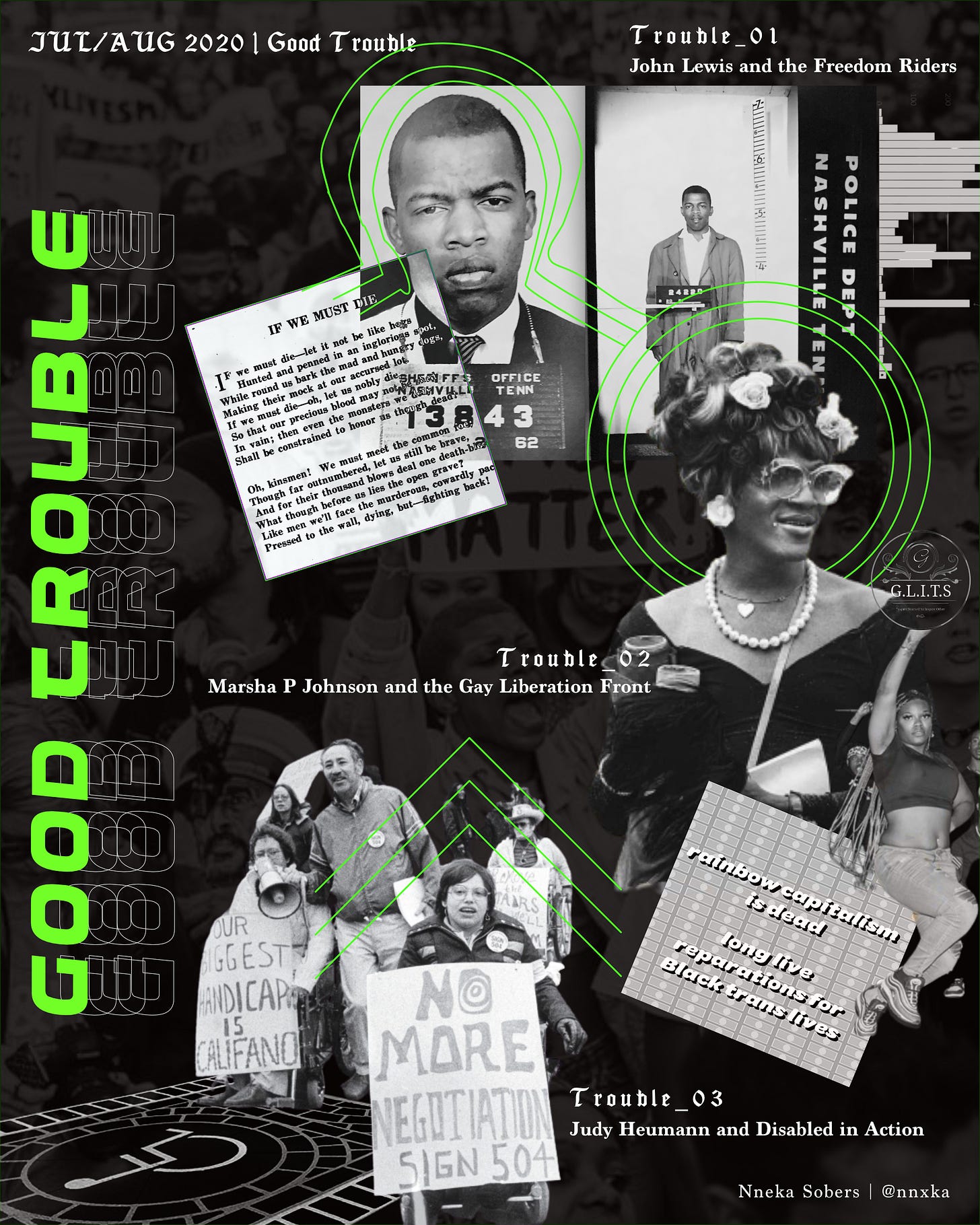 How to engage with this digital collage:
To get the full experience of this month's digital collage, all you have to do is download my collage here. Once you click the various images, you will be redirected to other sites that contain interesting content that have resonated with me lately. Missed a collage? Click here for my previous work. Enjoy!